Used Mazda's That Are Worth Investing In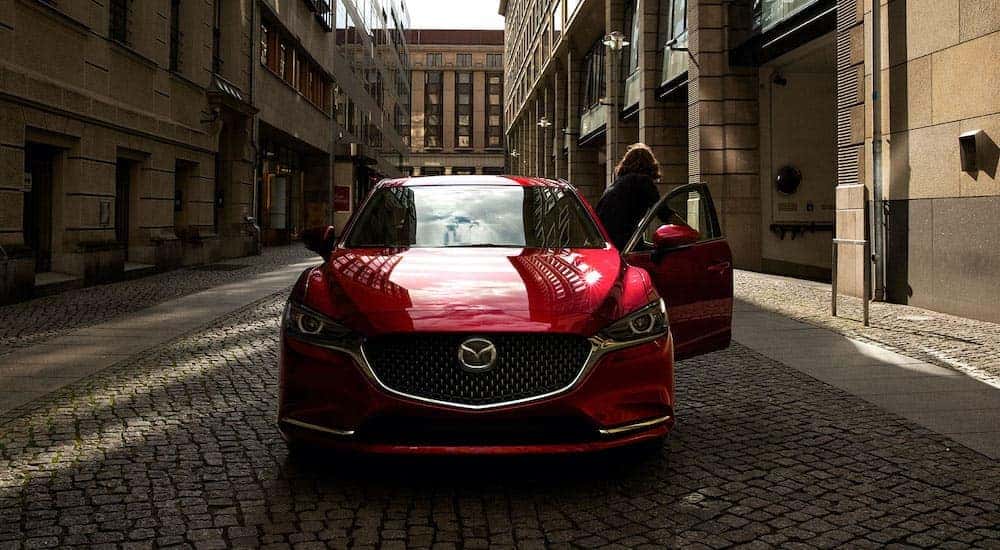 One of the advantages about choosing Mazda is that you're certain to get a vehicle of unsurpassed quality and incredible performance. While some consumers are still apprehensive about buying anything used, we're here to reassure you that Mazda has high standards. They've always ensured that their used fleet is just as reliable and versatile as the models currently being built on assembly lines, both domestic and overseas. A used Mazda dealership, such as our establishment here at Mazda of Columbia, carries an array of used vehicles from years past that are worth investing in. For the quality of life you deserve from a brand you can trust, no one possesses the incredible staying power quite like Mazda. Today, we spotlight vehicles that will make your day every day.
2015 Mazda 5
While the SUV has usurped both the station wagon and minivan as the ideal family vehicle, they're no less reliable than their counterparts. Because many manufacturers chose to cease production on their minivans, the Mazda 5 being one of them, several can be found for a more than reasonable price and can afford you the storage capabilities and economical fuel conservation of a subcompact SUV. The Mazda 5 was slightly smaller than the average van, allowing for better maneuverability and seating for six. Not boring in the slightest, Mazda equipped it with a 2.5L 4-cylinder engine capable of generating 157 horsepower. Driving in the city limits afforded customers a fuel economy of 21 MPG (miles per gallon), which expands to 28 MPG on the highway. With 44 cubic feet of available storage space, it is still competitive with the average subcompact SUV.
2018 Mazda 6
One look at the Mazda 6, and one might wrongly assume that it's nothing more than a Honda Accord clone. Oh, ye of little faith…the Mazda 6, the successor to the popular 626 that dominated the 1980s and 90s, was anything but bland and proved that the four-door sedan could still yield excitement, fuel economy, and still be inexpensive to insure. For 2018, Mazda equipped the 6 with two different 2.5L 4-cylinder engines, one of which was turbocharged for the performance-oriented. Yielding 187 or 277 horsepower, depending on which one you preferred, made for a ride with plenty of kick. The Mazda 6 also excelled at fuel efficiency, with a combined estimate of 26 MPG and 29 MPG for the turbocharged 2.5L and regular 2.5L engines, respectively, which were great attributes alongside each engine type.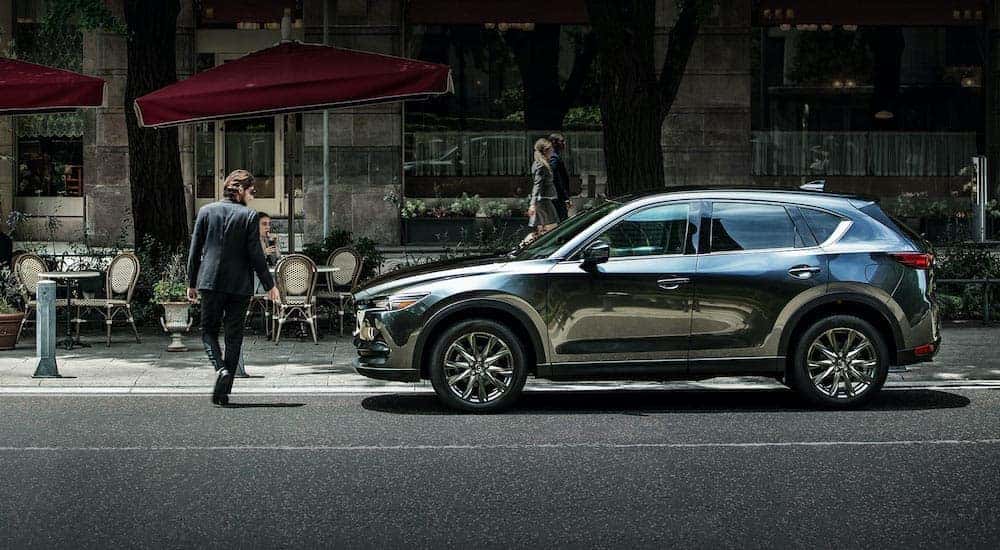 2019 Mazda CX-5
Of course, 4-door sedans and vans aren't palatable for everyone's taste. And because Mazda has shifted a considerable amount of focus on their impressive lineup of SUVs, we thought that the 2019 CX-5 has more than plenty to offer the average consumer and their ever-growing needs. Because safety is an aspect that outweighs all others, you'll be impressed to know that not only did the 2019 CX-5 receive a five-star safety rating from the NHTSA in crash tests, but it was also selected as a top safety pick from the Insurance Institute of Highway Safety.
High safety rankings aside, the CX-5 boasted plenty of other attributes that make it one of the best choices for a quality used vehicle. Available in a four-cylinder diesel engine capable of 187 horsepower or a 2.5L turbocharged 4-cylinder boasting an earth-shattering 250 horsepower, the CX-5 knew what people needed and delivered the goods without any difficulty. An available towing capacity of 3,500 lbs. was the icing on the cake, and might we add, it tasted quite delicious.
2011 Mazda Tribute
While the current lineup of Mazda SUVs focuses on curvaceous and sporty models, the Mazda tribute had more in common with its American counterparts. To this end, if offered a plethora of attributes and options that are still wonderful to take advantage of. Like many SUVs, it was adept at both storage and towing, with 67 cubic feet of room and an available towing capacity of 3,450 lbs. The powertrain options allowed consumers to choose between a 2.5L 4-cylinder that outputted 171 horsepower and 171 lb.-ft of torque or a robust 3.0L V-6 that cranked out 240 horsepower and 223 lb.-ft of torque. Unlike many SUVs, the 2011 Tribute came standard with a five-speed manual transmission, although a six-speed automatic was available. All of this rests upon a set of 16" aluminum-alloy wheels, and if you're lucky enough to find one of these bad boys for sale, it can also rest in your driveway.
2019 Mazda 3
If an SUV is just a little big for your liking, but you still want to find a used vehicle with ideal storage capabilities, might we suggest the 2019 Mazda 3. The Mazda 3 combined the sleek, stylish look of the SUV line Mazda has now with the easy handling and size of a sedan. The best of both worlds, if there ever was such a thing, and with a combined MPG of 30, your commutes will be economical. An available 47 cubic feet of storage capacity means that you can take more with you wherever you go. While popularity certainly favors competitor models such as the Honda Civic and Volkswagen Golf, the Mazda 3 is available for a lower price, and you're still getting the capability and quality that Mazda has always been known for. And what's better, the depreciation of value off of the original MSRP means you'll be able to snag one for a competitive rate that might just make you faint.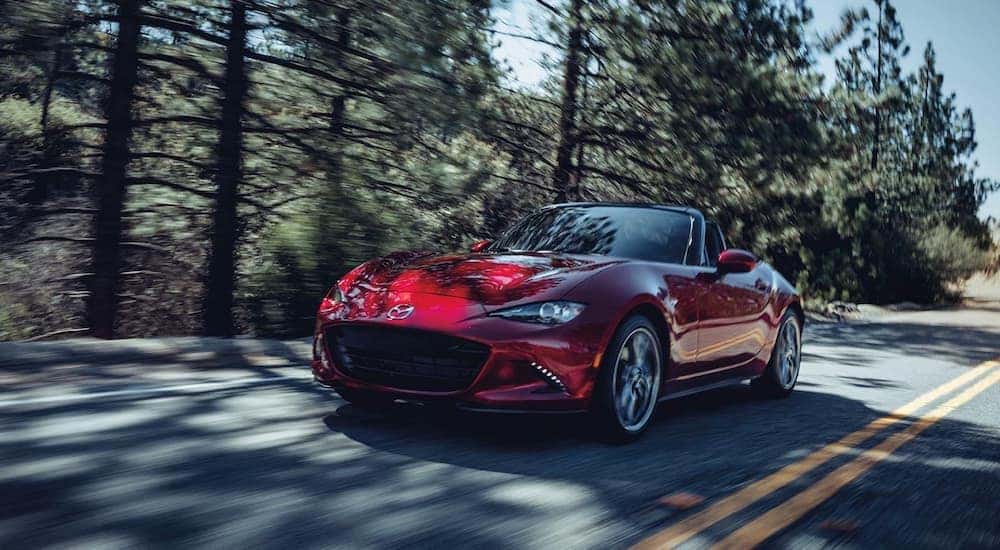 2020 Mazda MX-5 Miata
We've looked at SUVs, sedans, and a van…but we've saved the hottest item for last. As one of the most celebrated sports cars in existence, the Miata is affordable, with an average price tag in the ballpark of 20K, and provides first-rate performance for just about any income. The 2020 model was another in the long line of roadsters that are just as stylish and sporty as they are a thrill to drive. Equipped with a 2.0L 4-cylinder engine capable of generating 181 horsepower and traveling from 0-60 MPH in an impressive 6.4 seconds, the Miata doesn't lack performance. While the six-speed manual transmission gives the driver a feeling of superiority, there's also a substantial amount of peace of mind to come with it, as the Miata has a combined MPG of 30. Excellence at every level, there's a reason why they've been in production since 1989 and continue to deliver superior results.
A Continuous Stream of Prestige
While there's certainly no shortage of used vehicles comprised of several makes and models on the market today, few have the staying power and consistent track record of refined excellence that one gets from Mazda. From the sporty Miata, the economical Mazda 3, or even their current line of SUVs that seamlessly combine performance and prestige, there's something for every driver. Sure, other manufacturers have promised that their used vehicles are just as good as the new ones, but only Mazda has delivered on their guarantees repeatedly. Not only will an investment in any of these vehicles prove to be an excellent choice, but the return you'll be getting back is far greater than you could have ever possibly imagined.