Two 2023 Mazda Models That Are Sure to Impress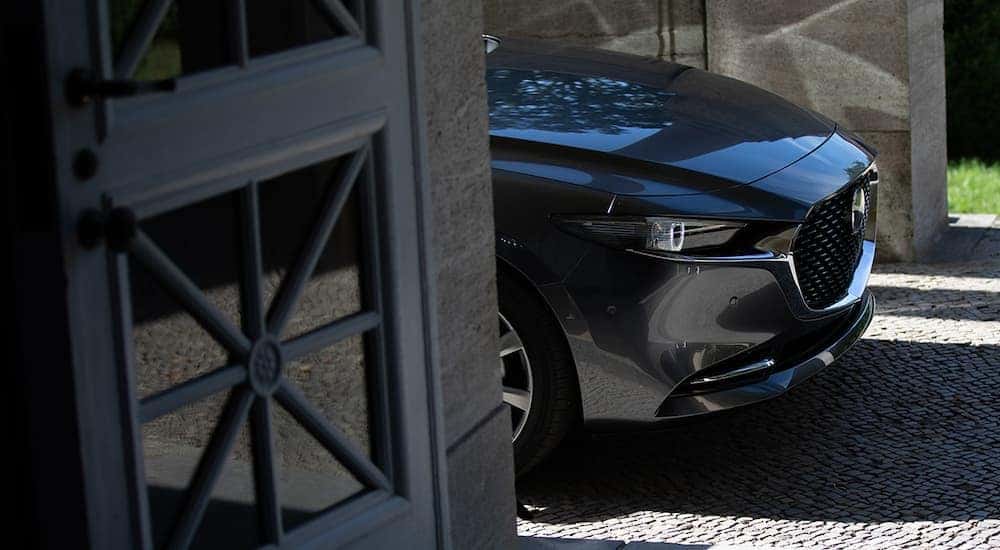 Car shopping can be overwhelming. These days, we are overloaded with choices in nearly every segment. The automotive landscape is littered with dozens of brands and hundreds of models. It's a wonder anyone can pick out a car without getting completely frazzled. As your Irmo Mazda dealer, we want to help. While Mazda may seem understated as a brand, it's been quietly operating in the background of the automotive industry, releasing dependable and affordable models in every category and building a loyal fanbase of drivers.
Mazda is an international brand out of Japan that specializes in designing cars that are focused on refined quality and functionality. Originally established over 100 years ago, the brand is well known for building the type of vehicle still on the road with hundreds of thousands of miles on the odometer. Its commitment to producing reliable transportation at prices the general public can afford has helped establish Mazda's foothold in the American automotive landscape. Its sedans and SUVs are zippy, comfortable, and aesthetically pleasing. So let's highlight two crowd favorites for the 2023 model year. If you're thinking of switching brands or just exploring which Mazda to get next, it may help you narrow down your choices.
2023 Mazda CX-5
The CX-5 is a crown jewel in today's Mazda lineup. It's a well-rounded compact SUV with every bell and whistle, from safety features to entertainment tech, all wrapped up in a stylish body. The 2023 model is the best edition yet. It's inspired by Mazda's Kodo design philosophy, meaning the "Soul of Motion." The unique exterior style highlights the company's attention to detail, while the CX-5 interior is an inviting retreat away from the stress of even the worst Columbia traffic.
The 2023 CX-5 is available in eight trim levels: Base, Select, Preferred, Carbon Edition, Premium, Premium Plus, Turbo, and Turbo Signature. The first six trims are equipped with a 2.5L four-cylinder engine that pumps out 187 hp. This engine provides plenty of speed for weaving through city traffic and maneuvering into any freeway onramp. Upgrading to the two top trims gets you a turbocharged engine with 256 hp and even more intense acceleration for you to appreciate.
The super tight steering handles corners with ease, and the sophisticated suspension quickly adapts to bumpy roads by dampening their effect and insulating you from any rattling sensations. Despite its sporty handling and standard all-wheel drive, the 2023 CX-5 is actually quite fuel-efficient. The standard 2.5L engine gets an EPA-estimated 24 MPG in the city and 30 MPG on the highway, while the turbocharged configuration earns 22 MPG in the city and 27 MPG on the highway.
The Mazda CX-5 boasts an interior worthy of bragging rights. Road noise is minimal inside the cabin, so you can enjoy a quiet commute to and from Irmo. The layout feels upscale and inviting, with quality details throughout. The CX-5 has a well-thought-out steering wheel that sits directly in front of the driver instead of at an angle. Mazda added front-row seating armrests at the same height for even more comfort.
Plenty of cargo space in the CX-5 paves the way for using this SUV on long road trips and for all sorts of errands. You can easily stash plenty of groceries, sports equipment, shopping bags, and luggage behind the seats. The cabin also has ample smaller spaces for things like purses, backpacks, and electronic accessories. The center console features a large, deep tray at the front with a bin and removable shelf.
The 2023 CX-5 is outfitted with plenty of high-tech equipment. A standard 10.25-inch infotainment display has intuitively placed controls to deter distractions while driving. You can use it with the console-mounted rotary dial or activate the voice commands using the steering wheel. An available subscription-based WiFi hotspot helps you stay connected even when you're on the go. Finally, you can enjoy remote start and vehicle status reports using the MyMazda App on your smartphone.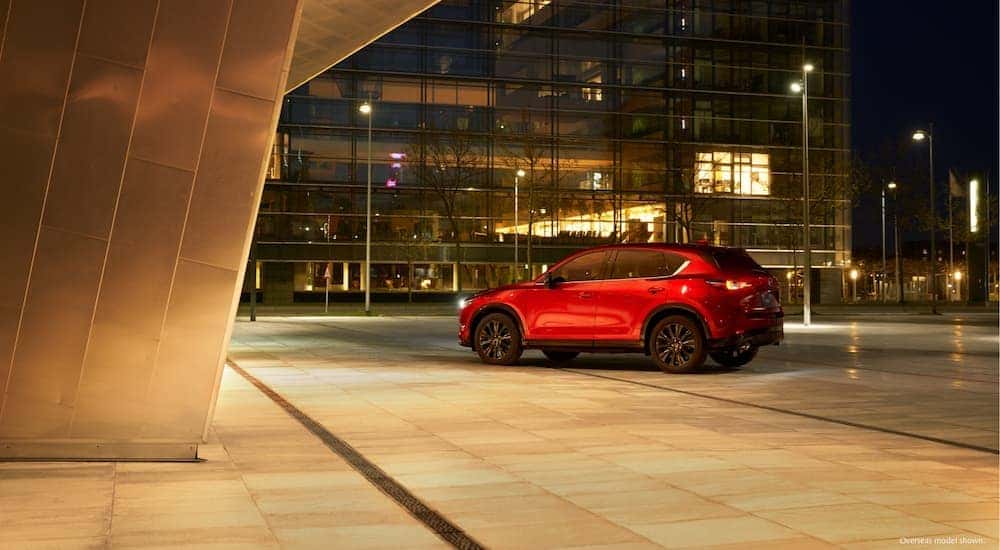 2023 Mazda3
We can't talk about great Mazda models without highlighting the Mazda3. The Mazda3 compact sedan has been a core product for the brand since 2003, selling over six million units around the world and outselling every other vehicle in Mazda's fleet. The 2023 Mazda3 comes as a sedan or a hatchback, but the hatchback is the sportier option. It comes in seven trims: Base, Select, Preferred, Carbon Edition, Premium, Turbo, and Turbo Premium Plus. The exterior looks modern, with curves and angles that draw the eye, even when the car is parked. The car is available in a sophisticated palette of exterior colors and can be enhanced by black 18-inch alloy wheels and black side mirrors. Plus, it comes standard with LED headlights and combination tail lights that compliment the grille and design of the trunk.
The 2023 Mazda3 is offered in two engines. The standard is a 2.5L four-cylinder that comes in either front-wheel drive or all-wheel drive. This base engine produces 191 hp, a five hp increase over last year. The alternative is a 2.5L turbocharged setup with an output of 250 hp. One of the most exciting options is the ability to order the Mazda3 hatchback with a six-speed manual transmission, a rare find these days. All-wheel drive is also an option, providing SUV-like performance in an affordable compact car, and the turbocharged engine delivers a thrilling 0-60 mph time of only 5.6 seconds. Both options are still very efficient in the gas-powered segment and will get you plenty of bang for your buck at the pump.
Mazda3's interior is impeccably comfortable and designed using quality materials on the seats, doors, and dashboard. You can experience soft cloth or premium leather upholstery depending on the trim level. Higher trims offer power-adjustable heated seats with driver memory, adaptive headlights, and a head-up display. A standard 8.8-inch infotainment system display feels larger than it measures, thanks to a bezel that floats in between two pillow-like dash pads. The system pairs easily with Apple CarPlay and Android Auto. Audio is delivered through a standard eight-speaker setup with Mazda Harmonic Acoustics, or you can add the optional 12-speaker Bose stereo system for an extra fee.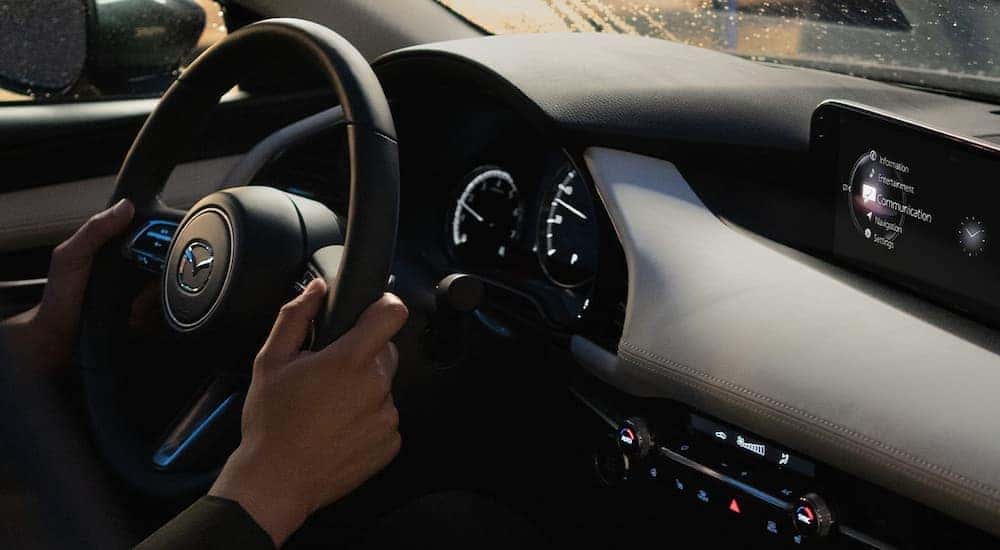 Many Great Mazdas
The CX-5 and the Mazda3 stand out among the pack for their rightfully earned popularity, but these are just two prime examples of the masterful designs coming out of Mazda headquarters. These 2023 models spotlight the best of both the SUV and sedan. Mazda elevated the designs of both while maintaining the best attributes from previous year models. The CX-5 makes for an excellent family vehicle and delivers the versatility drivers look for when shopping the SUV segment. Its luxurious interior gives the feeling of a much more expensive brand.
The Mazda3 accomplishes everything that a modern four-door sedan should in performance, comfort, and design. Both vehicles have fun powertrains that operate smoothly and offer drivers an exciting ride every time. Plus, with both models selling at incredibly reasonable prices, Mazda yet again accomplishes building quality vehicles accessible to the masses. Ultimately, you'll pick the one that is right for your lifestyle and budget, but the CX-5 and the Mazda3 are both delicious food for thought.