Our Favorite Features of the Mazda CX-50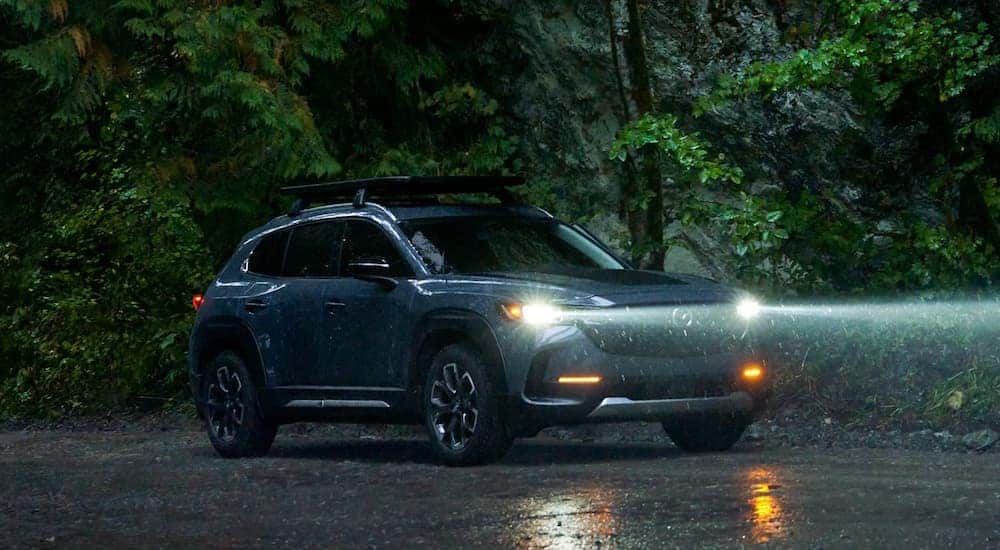 The recent unveiling of the Mazda CX-50 has caused quite a reaction in the automotive industry. In a world where the SUV has gradually slimmed down and was made accessible to a vast amount of consumers, Mazda's newest addition to their fleet is quite the uncanny and ambitious crossover. As with many of the vehicles that the Japanese-based manufacturer has designed and produced over the years, a great deal of focus is placed on technological innovations that exist for the benefit of the average consumer. We here at Mazda of Columbia, your premier Mazda CX-50 dealer in South Carolina, welcome you to visit us and experience these amazing features for yourself.
In an era where vehicles are more complex than ever and have features that are constantly evolving, we decided to take a look at some of the most impressive aspects related to Mazda's newest member of their ever-growing fleet. When it came to choosing our favorite features of the CX-50, we had a wide array of potential nominees for what we thought were the most beneficial for consumers. As a Mazda CX-50 dealer, we take the time to know the ins and outs of every vehicle we put on our lot so we can answer all the questions that our discerning customers have about why Mazda is the best option for them and their families. Let's take a look at some of our favorite features.
Mazda Connect
Ever since the earliest days of the cell phone becoming accessible to a wider demographic of users, there's been a lot of focus on getting people to not use them while driving. With the smartphone becoming more and more integrated into our daily lives, separation from it isn't quite as easy as we think it is. Many law enforcement agencies are cracking down on people using their phones while driving, even penalizing those caught sending text messages.
One of Mazda's most impressive features included with the CX-50 is the newest edition of Mazda Connect. With the temptation to use our phones while engaging in a multitude of activities, Mazda circumvents the dangers and places control of our favorite gadget while maintaining our focus on the road ahead.
The interface is positioned on the dashboard in such a way as to allow the usage of different applications linked to your smartphone while not being distracted. An active driving display placed above the steering wheel keeps essential information at eye level, such as vehicle speed and navigation. The interface itself contains software that will continue to update along with the various OS of smartphones and their technology. Just another way that Mazda stays ahead of the curve.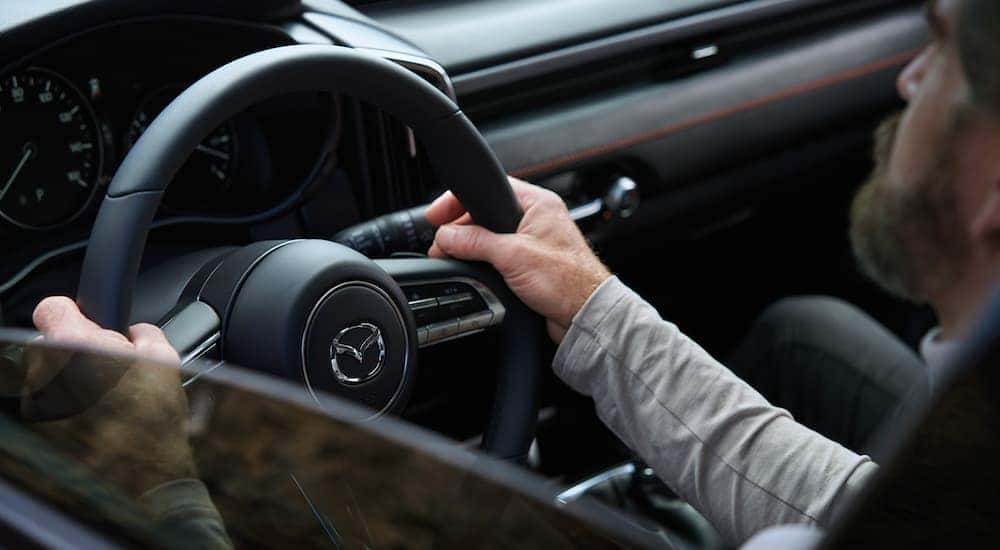 i-ACTIV AWD
When it was announced that AWD was going to be standard on all Mazda SUVs for the 2022 model year, many industry critics were impressed that Mazda had once again seized the initiative for the benefit of their customers. Competing models such as the Subaru Outback had always offered what they referred to as "intelligent AWD," but Mazda stole their thunder with their i-ACTIV AWD technology.
Taking drivetrain autonomy to an unprecedented level, Mazda's technological feat is formulated to limit fuel consumption and adapt depending upon the terrain you're traveling on. With the use of sensors, i-ACTIV technology is constantly monitoring factors such as road conditions and wheel speed and distributing torque to the four wheels of the CX-50 accordingly. This means that AWD will utilize its advantage when you're off the beaten path and limit itself to FWD if you're driving within the city limits. But that's not all—the sensors also monitor temperature and wipers, making adjustments that are essential for those who live in colder climates.
i-ACTIVSENSE
There's nothing worse than getting caught in the rain without an umbrella. The unexpected downpour that occurs completely out of nowhere can literally "rain on your parade" and thwart your well-laid plans. While driving in the rain is certainly no arduous task, the road ahead is unpredictable, and any commute can take an unexpected turn in a matter of seconds.
Just like an umbrella protects you from the rain, i-ACTIVSENSE provides a barrier of advanced safety technology that keeps an eye on you and your passengers. Using camera and radar technology, i-ACTIVSENSE focuses on two critical areas; active and pre-crash safety.
Active Crash Technology: The easiest way to describe the first aspect of this package would be a "preventative measure." This technology is put into place to help prevent accidents from occurring. This includes automated toggling between your vehicle's high and low beams depending upon lighting conditions outside. Adaptive cruise control, which is best used during lengthy spells of highway driving, adjusts vehicle speed in conjunction with patterns of traffic. This technology also detects other drivers on the road as they approach and identifies road markings to keep you on course and as safe as possible.
Pre-Crash Safety Technology: Accidents happen. It's part of life. But when they do, Mazda has equipped technology to limit the damage caused during a collision. Because reaction times can be delayed and we sometimes lose our bearings in the heat of the moment, Mazda has equipped their vehicles with acceleration control. This limits take off just in case the acceleration pedal is pressed instead of the brake, which has a considerable effect on limiting damage. The second feature is what's known as SBCS (Smart Brake City Support). This engages brake activity at slow speeds, which, according to statistics, is where 60% of accidents occur.
It should be noted that while these features offer an added layer of protection, there is nothing that replaces the habits and awareness of a responsible driver.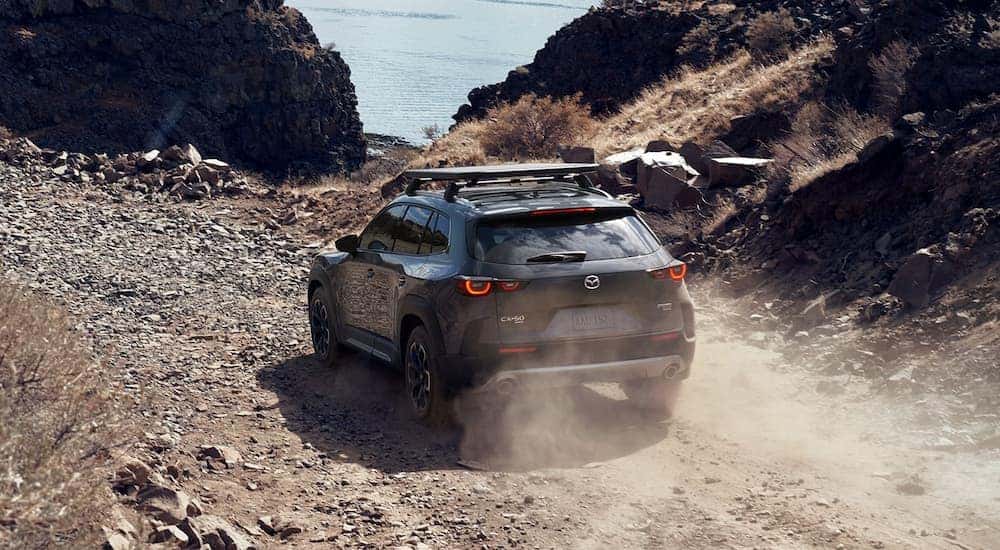 Driving a la Mode
Another unique aspect of the technology that Mazda has equipped the CX-50 with is the ability to switch between four different driving modes. While the SUV has always been considered a versatile vehicle, technology now allows us to take that practice to new heights.
Normal Mode: Ideal for driving in the city, as some tests have shown that this promotes similar fuel economy one would achieve with a typical FWD vehicle. Still, Mazda's i-ACTIV system will engage should a sudden situation warrant it.
Sport Mode: For those who crave performance and are hungry for horsepower, Mazda has you covered. If you decide to get your CX-50 with a turbocharged motor, you'll find upshifting is seamless, and Mazda's six-speed transmission benefits from this option.
Off-Road Mode: There are those among us who insist on taking the road less traveled and straying off the beaten path. The ability to transition from the road to the dirt speaks to the innovation that Mazda has put forward with their newest creation. With over 8" of ground clearance, you'll be ready for some playtime in the dirt.
Towing Mode: Just when you think that Mazda offers it all, they throw in a feature such as this to sweeten the deal. With a towing capacity of 3,500 lbs when properly equipped, you'll have no trouble with payloads if you're the trailering type.
The Future Is Now
With the CX-50, Mazda has single-handedly reinvented the compact SUV and equipped it with technological innovations that adhere to every taste of every driver. While the next century is still a ways off, the future is much closer than you might think. At Mazda of Columbia, we'll gladly help you get behind the wheel of the CX-50 and understand all of the high-tech features that make it a revolutionary step in engineering and versatility. With the CX-50, you won't need a time machine to witness the future in all of its glory.