WHAT DOES THE MAZDA CHECK ENGINE LIGHT MEAN?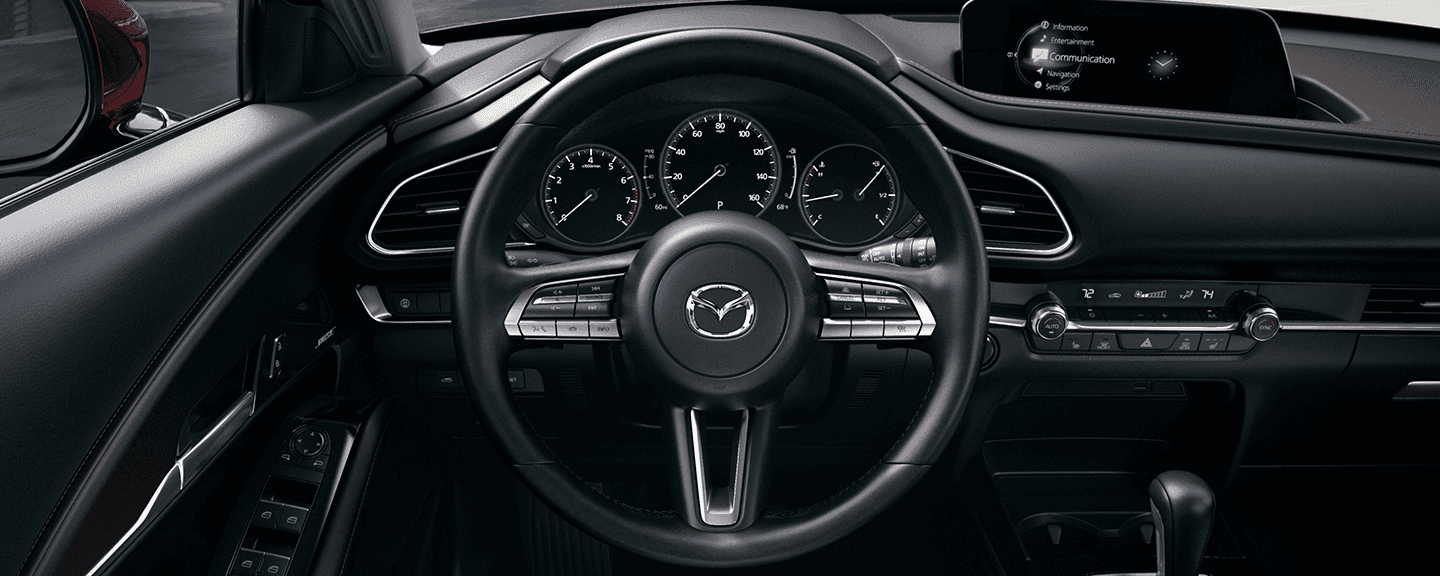 Is your Mazda engine light on and giving you cause for concern? The Mazda check engine light is a way of indicating to drivers that a component may not be functioning properly and that further investigation is required. If your light goes on while driving around West Columbia or Irmo, schedule service at your nearest authorized Mazda dealer as soon as possible.
WHY IS THE MAZDA CHECK ENGINE LIGHT ON?
If your new Mazda CX-5 or Mazda3 check engine light goes on, there are a few different vehicle issues that may cause this. Possibilities include:
There is a problem with the engine's electrical system
There is a problem with the emission control system
The fuel tank is empty or extremely low
The gas cap is missing or not screwed on tightly enough
ADDITIONAL CHECK ENGINE TIPS
If your Mazda check engine light stays on or flashes continuously, avoid driving at high speeds, and visit an authorized Mazda dealer as soon as possible.
Do not disconnect the battery cables if the light turns on. If they are connected and then reconnected, the engine could catch fire or be seriously damaged.
SKYACTIV®-G ENGINE TIPS
Skyactiv® Technology in turbocharged engines like the Skyactiv®-G 2.0T or the Skyactiv®-G 2.5T enhances engine power and improves operation. Its advanced design makes it unlike other engines, so there are a few things to keep in mind to avoid Skyactiv®-G engine problems on Lexington roads.
After sustained strain like driving up a long hill, driving at freeway speeds, or towing for a long time, idle the engine for at least 30 seconds before stopping it to avoid damage.
Do not race or over-rev the engine, especially right after it's been started, to avoid damage.
Do not race or over-rev the engine after starting it in extreme cold.
Change the engine oil and filter according to the Schedule Maintenance section of your owners' manual.
Use only the recommended engine oil according to your owner's manual, do NOT use extra additives.
If your Mazda3 check engine light comes on, don't hesitate to give us a call at 803-404-5100. Our team would love to help you with your Mazda engine light issues with ease.
RELY ON Mazda of Columbia FOR YOUR SERVICE NEEDS
If your engine light goes on, browse our service specials before heading in to get a great deal at Mazda of Columbia. Contact our service department or check out our service tips if you want to learn more about things like Mazda3 Skyactiv®-G engine noise, how to get improved fuel economy with driving habits, and more! Also, check out the Mazda CX-9 performance features to see how you can enhance your West Columbia commute today.
MORE SERVICE TIPS FROM Mazda of Columbia
Do you have more questions about your Mazda engine light or Mazda maintenance? Take a look at these articles by our experts to help you learn about everything from Mazda engine lights, to model features, to service tips.
Is your Mazda engine light on and giving you cause for concern? The Mazda check engine light is a way of indicating to drivers that a component may not be functioning properly and that further investigation is required. If your light goes on while driving around West Columbia or Irmo, schedule service at your nearest authorized…

Schedule Service Tire care is a major part of keeping your Mazda model running for as long as possible. Be sure to make your Irmo drive both safe and efficient by following a few simple tire care tips from Mazda of Columbia. If you still have questions, be sure to swing by our service department! Q:…

Schedule Service Whether you just drive your car to work and back or regularly road trip out of the Columbia area, the best way to ensure a safe and uneventful drive is to keep up with your auto service. But do you know your car maintenance schedule? Mazda of Columbia services all makes and models, from West Columbia…