Making the Miata Yours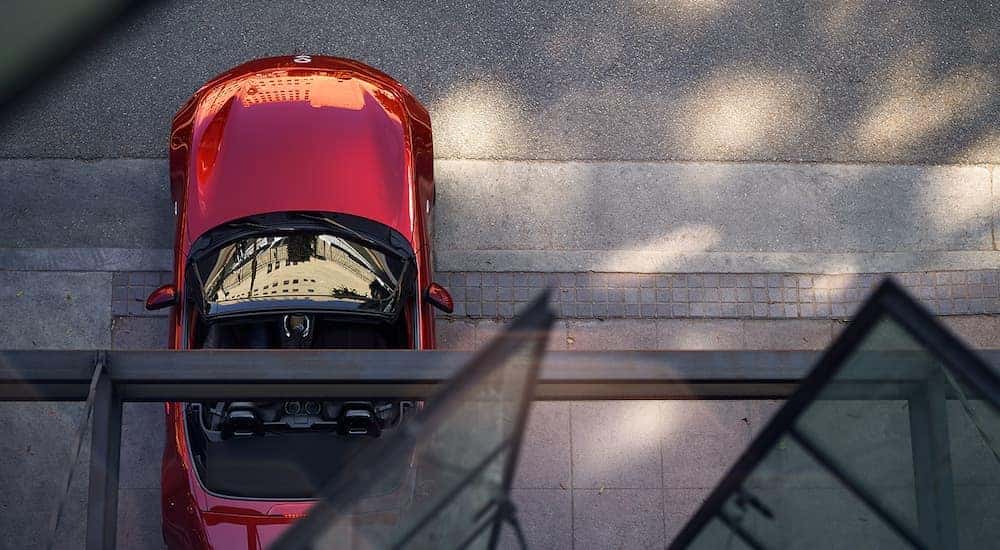 Since its premiere at the 1989 Chicago Auto Show, the Mazda MX-5 Miata has been the sports car of choice for the discerning motorist on a budget. The great thing about the Miata is that you can make it yours without paying an arm and a leg to do so. Now the established face of the Mazda lineup, at 33 years old, the Miata has earned its place as an icon of the automotive world. From its spunky debut to its well-earned status as a respected sports car, the Miata has enchanted drivers with its magic. If you haven't had the chance to experience the Miata for yourself, it's time to pay us a visit and take one for a test drive here at your Chapin Mazda dealer.
Now in its fourth generation, the Miata has taken on the look of an aggressive, almost snakelike car. Its angled headlights and sharper angles give it a far more aggressive look than its earlier, more rounded incarnations. But the basic spirit of the Miata is still the same. The formula that's worked for over three decades hasn't changed. Small, lightweight, and rear-wheel drive. This is the recipe for the perfect sports car. Add to it a great engine, comfortable seats, and modern technological amenities, and you have yourself a car that's going to make its own legacy in your family. Take our word for it. As we take you on this tour of the 2022 Miata, you'll be transfixed by that same quality that has melted the hearts of many drivers. Shall we?
Not Fast? That's Okay.
First and foremost, the Miata is not a fast car. Yes, you heard us correctly. It's not fast. Then how does it get off calling itself a sports car if it's not fast? A fair question, one that we will answer immediately. Just because the Miata isn't fast doesn't make it any less sporty. Quite the opposite. There are many fast cars that have forsaken handling and nimbleness for the sake of raw speed. Those demons of the road may go fast but aren't so happy if you ask them to turn or stop. Not the Miata! It may not have the oomph of, say, a Dodge Challenger, but you can guarantee it's a lot more fun to drive.
The key to that fun is the formula we mentioned earlier: small, light, rear-wheel drive. With a wheelbase of only 90.9 inches, the Miata is a nimble runabout as opposed to a luxury yacht. And at just over 2,340 lbs, it's a lightweight too. All of this plays to the Miata's advantage. It utilizes its size and front mid-engine layout to create a near-perfect 50/50 weight distribution between front and back. That balance creates a smooth, planted driving experience that allows you to feel the road beneath you as you take a corner, something you might not expect for a car that starts at under $30,000.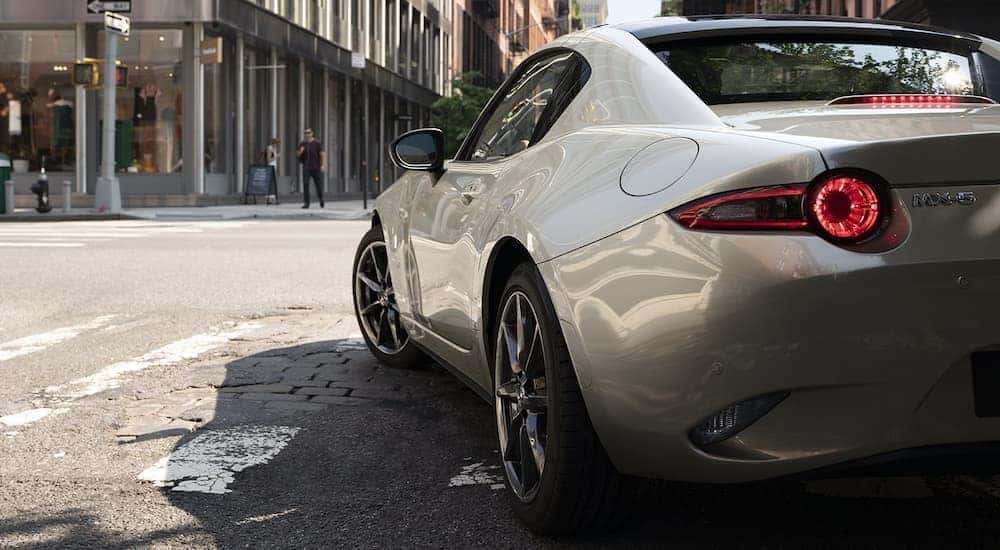 Engine and Transmission
It's the Miata that put the Zoom Zoom in Mazda's name. It's zippy thanks to the 2.0L 4-cylinder SKYACTIV engine that produces 181 hp and 151 lb-ft of torque. Don't be alarmed by those seemingly small numbers. With a car as light as the Miata, 181 hp can easily feel like 300 hp in a larger vehicle. The force the engine pulls through this small vehicle is more than enough to bring a smile to your face and the 5.7 second 0-60 time is more than respectable.
Another thing that might make you smile, if you're someone who truly loves the driving experience, is the standard 6-speed manual transmission with a short-throw shifter. A 6-speed sport automatic transmission with paddle shifters is available, but many Miata buyers go for the manual. There's just something different about driving a stick. The control you have over your car, being able to feel the road, take the needle all the way up to the max 7,500 RPM, and listen to the engine purr before changing gears. It's an enchanting experience for those who know how to drive a manual. For those who may not, we highly encourage learning. It's the best way to enjoy a small sports car like the Miata. The gear ratios are tight, making for easy shifting as you glide along down the road.
2022 Miata Trim Levels
There are three different trim levels to choose from when looking to buy a 2022 Mazda MX-5 Miata: Sport, Club, and Grand Touring.
The Sport is the base model Miata, with a starting price of $27,650. [a] You get your standard engine and 6-speed manual transmission, kinematic posture control, and 16″ 6 spoke aluminum alloy wheels with a black metallic finish. For tech and safety features, you will find a 6-speaker audio system with driver headrest speakers, Apple CarPlay and Android Auto integration, blind-spot monitoring, lane departure warning, and daytime running LED headlamps.
The Club is next up. This has a few notable performance upgrades, including a limited-slip differential, Bilstein dampers, larger 17″ aluminum-alloy wheels with wider tires, and a front shock tower brace. Inside, you will find a premium 9-speaker Bose audio system with driver and passenger headrest speakers and a subwoofer, wireless Apple CarPlay, heated seats, and a 3-month trial subscription to SiriusXM satellite radio.
At the top of the line, we have the Grand Touring trim, which has all the bells and whistles of the Club, but some added upgrades. It wouldn't be the top of the line if it didn't. The upgrades include leather seats, black doorsill trim plates with stainless steel inserts, an auto-dimming rearview mirror with HomeLink, Mazda Navigation, and adaptive front lighting with high beam control.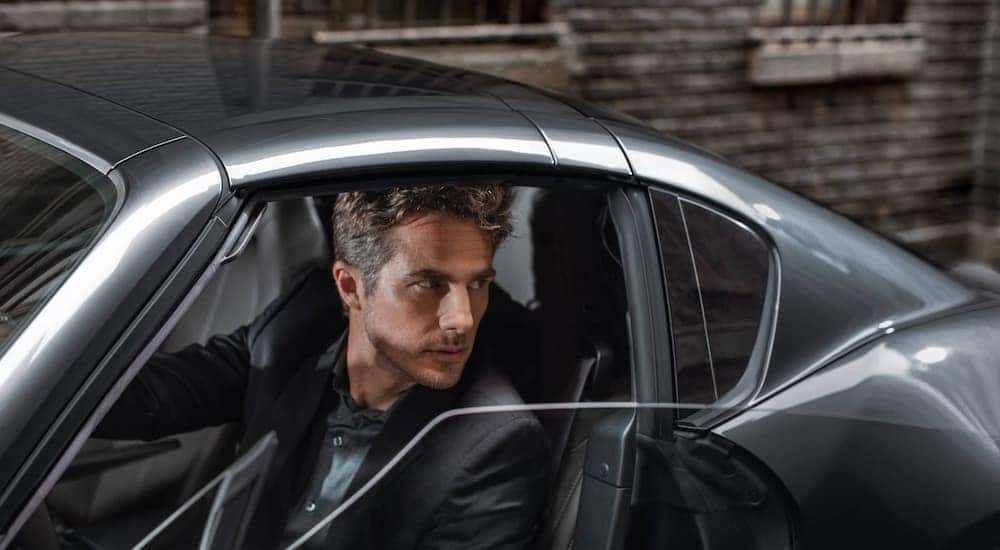 The MX-5 RF Hardtop
We'd be remiss if we didn't mention the MX-5 Miata RF. The RF is another Miata model with a twist. Where the standard version has a manually-operated cloth convertible top, the RF has a power-retractable hardtop. With the push of a button, the rigid hardtop retracts into the trunk in 13 seconds while still giving you space for your weekend essentials. The RF is also designed to be a bit more luxurious than your standard Miata, so the only two trim options are the Club and the Grand Touring. Plus, the attractive teardrop shape makes the RF look far more like an exotic sports car than the standard Miata.
How to Make It Yours
If nothing else we've just described to you sounds remotely appealing, consider this. There is almost no other company producing an affordable, fun, completely outfitted sports car except for Mazda. The company has a legend on its hands, and you could be part of that experience. It helps that the Miata is easy and fun to drive while being offered in an array of colors and trim packages, but at the end of the day, it's how you feel about your car that makes it yours. The relationship you develop with it over the years of ownership. Cars like the Miata have the potential to become much more than just a machine that gets you from Point A to Point B. It has the potential to become your friend.
---

[a] MSRP subject to change. Please see dealer for details.