Evolution In Progress: The 2022 Mazda CX-5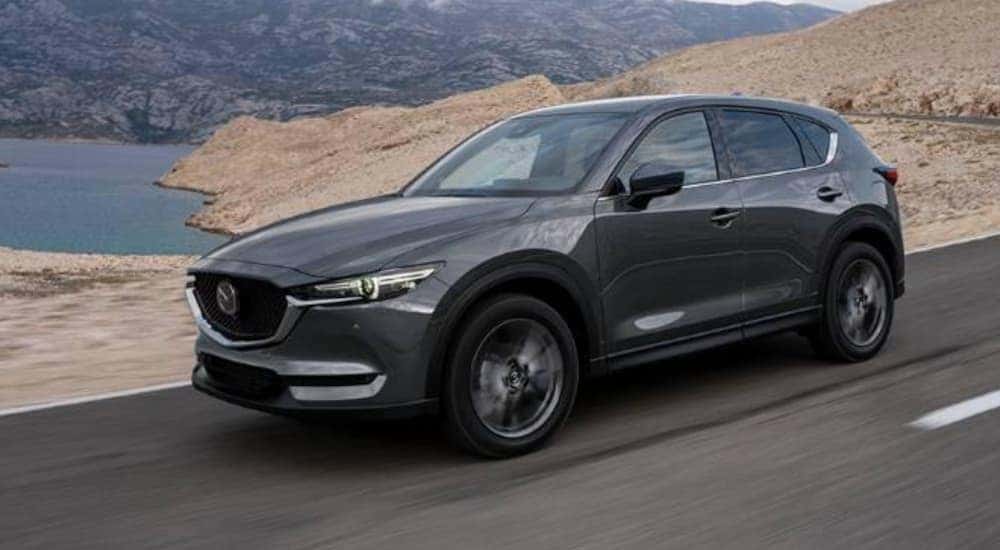 Just when you thought the Mazda CX-5 couldn't get any better, Mazda went and upped its game, giving the sedan some great upgrades for 2022. Want to see what we're talking about? Check out more about the Mazda CX-5 below, or better yet, stop into Mazda of Columbia, your Lake Murray Mazda dealer, and see what all the fuss is about.
The Mazda CX-5 was launched in 2013. The stylish four-door crossover invoked the silhouette of a feline ready to pounce. From the start, the sporty compact SUV was designed to appeal to a global audience. So with the new 2022 upgrades, Mazda sought to enhance the elements drivers loved while upgrading others to create a well-rounded, fully functioning product that excels on every level.
Since its debut, the Mazda CX-5 has become Mazda's best-selling vehicle, eclipsing the popular Mazda3 sedan. Are you wondering what makes the CX-5 so popular? Take a look at its long list of awards and accolades, which range from having a place on Car and Driver's prestigious 10Best list four years running to being named an IIHS Top-Safety Pick+ in 2022. It's clear the CX-5 is going places, and Mazda beckons drivers to come along for the ride.
Ready To Handle Anything
The CX-5 was a capable vehicle before, but for 2022 Mazda upped its game by equipping the newest CX-5 with standard all-wheel drive. The standard i-Active dAll-wheel drive system is meant to redefine what your daily driving experience can be. The sporty, responsive handling makes the Mazda a flexible compact SUV that can navigate congested city streets or bumpy country roads.
To get the most out of your drive, upgrade your new CX-5 with Mazda's available 2.5L Turbo engine for an exhilarating and unforgettable drive every time. While the standard engine doesn't disappoint with 187 hp, drivers that want a little extra pep and choose to opt for the 2.5L Turbo will have up to 256 hp at their fingertips.
The 2022 CX-5 delivers a respectable fuel economy that works well for daily commutes or whenever you feel your wanderlust kicking in. The standard engine gives a fuel economy of 24 MPG in the city and 30 MPG on the highway. If you go for the power boost of the turbocharged engine, expect to give up a little, with the fuel economy dropping to 22 MPG in the city and 27 MPG on the highway. But once drivers get behind the wheel and experience the nimble handling and smooth driving, they're more than likely to feel it's worth it. If you're looking for a sporty, stylish crossover, there's no match for the CX-5.
If you find that days can take you almost anywhere, check out the available Mi-Drive (Mazda Intelligent Drive Select). The Mi-Drive system lets drivers adjust drive modes to match the terrain. This is great news if you wander off the beaten trail once in a while or live where the weather can change in the blink of an eye. At the push of a button, drivers can choose from Normal, Sport, or Off-Road mode for added conference behind the wheel when the road gets rough.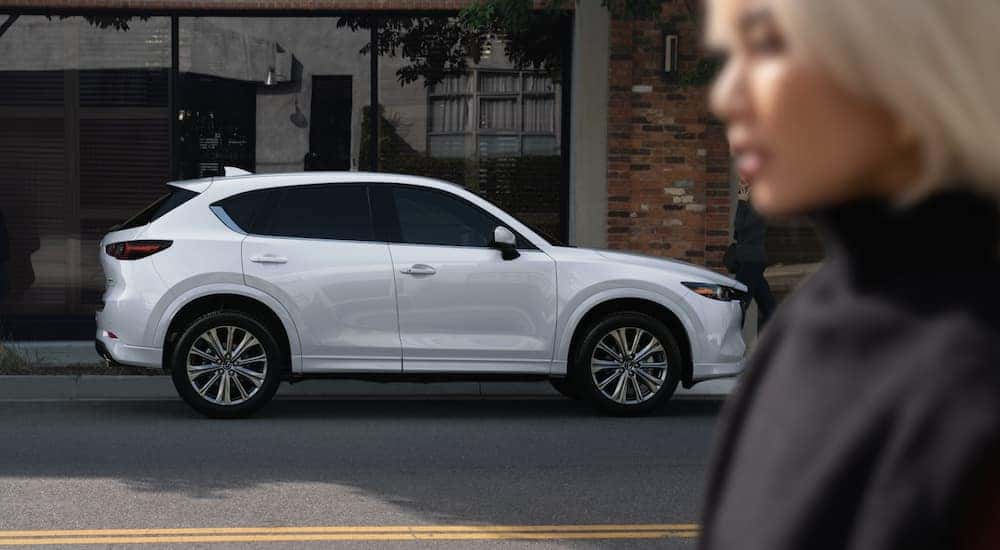 Designed For Everything
It's unlikely you spend 100% of your time in the city or in the country, so naturally, you need a vehicle that can go where you need it to. Dirty country roads, sandy trails, curved highways, or narrow city streets, the Mazda CX-5 was designed from the start to fit in and stand out in all the ways that count. Not only is this sporty SUV a well-oiled machine when it comes to driving, but its design and cabin give drivers the ultimate in style and comfort, so they never have to choose between form or function, with the CX-5 delivering the best of both worlds.
Mazda makes sure to point out the Kodo design philosophy that inspired the CX-5 design. What's Kodo design? Think of a horse and rider, that personal connection between the two. Two forms working together for a common goal is what Mazda sets out to accomplish when designing a machine like the CX-5. Every design element was a conscious choice meant to invoke such a connection between the driver and their vehicle, making every drive feel intimate and personal in the best possible way.
If you're looking for an elegant, minimalist SUV, Mazda CX-5 has you covered. Don't think minimalist means lacking either, but rather sleek and honed to perfection. Mazda, being a Japanese company, believes in the motto "less is more," and this is reflected in the CX-5's interior. The CX-5 control panel is uncluttered, with unnecessary elements removed and others rearranged to create a spacious interior that helps you relax and drive at the end of a busy day.
Mazda made car design an art form but still doesn't forget the creature comforts. Details like comfortable seats and driver-centered design put the CX-5 above the competition and make it a great vehicle for the everyday commute or a family road trip.
Built With Technology in Mind
The CX-5 doesn't lack when it comes to technology that helps streamline your day and make it a little easier. Drivers can seamlessly connect their smartphones to their CX-5 with the MyMazda App. This allows them to easily start their engine and adjust the temperature, locate their vehicle in a packed parking garage, or get service and maintenance updates such as oil change reminders or tire pressure checks.
Drivers can also bring along favorite playlists and receive calls when they join their smartphone with Apple CarPlay or Android Auto for a hands-free experience, making it safer and easier than ever to stay connected on the road. The large 10.25-inch monitor is conveniently located at your fingertips for easy access to maps and apps.
But what use is all this comfort and technology without the peace of mind of knowing your vehicle has your back when you need it? That's where the CX-5's top-rated safety features come in. When drivers have Mazda's i-Activsense with them, they can feel confident that they'll be ready for anything that comes their way.
Mazda is constantly refining and redesigning its technology to keep drivers and those they share the road with safe. The CX-5 features Advanced Smart City Brake Support with Pedestrian Detection, designed to help avoid or minimize an accident when it becomes unavoidable. Standard Blind Spot Monitoring helps prevent surprises by alerting drivers when a vehicle moves into their blind spot. If you find yourself often forced to navigate heavy traffic, enjoy the CX-5's available Traffic Jam Assist to help take some of the stress out of your commute.
Those are just a few of the driver-assist features drivers can take advantage of. With a whole host of standard and available features, it's possible to customize your vehicle to give you peace of mind when you need it the most. Whether you want a second set of eyes with the available 360-degree View Monitor or want to take some of the worries out of night driving with High Beam Control, the CX-5 gives drivers an added sense of safety and stability when they're behind the wheel.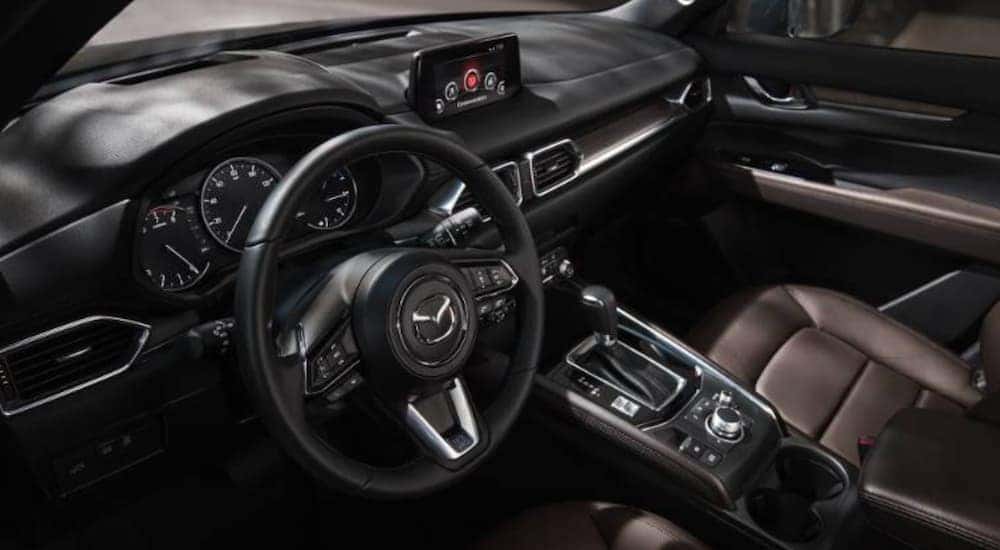 The CX-5 For Life
The Mazda CX-5 is an elegant, top-performing machine that outclasses even the steepest competition. And that's saying a lot considering the ever-expanding SUV and crossover market. It's not often you'll come across such a stylishly built compact SUV that offers you the power and flexibility of a larger vehicle.
The latest CX-5 enhancements further elevate this already noteworthy five-seater from a dependable everyday ride to a thing of beauty. The available turbocharged engine and standard all-wheel drive, plus the long list of features, give drivers more for their money than you would normally expect. Any way you look at it, the CX-5 delivers on every level, inside and out. If you're ready for a vehicle that can take you anywhere and is up for everything, the latest CX-5 is ready when you are.