Affordable Luxury: The Mazda CX-30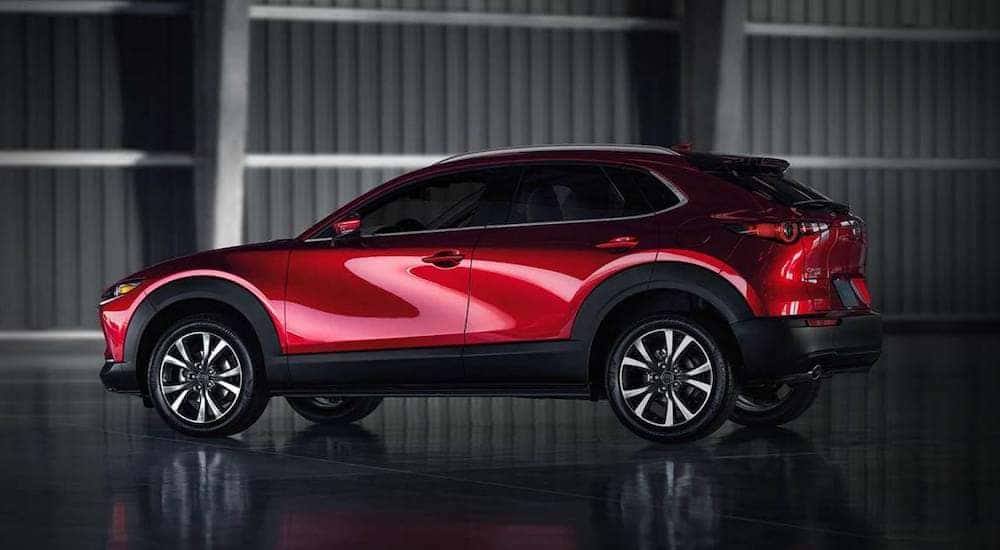 The CX-30 is still very new to the Mazda lineup. After hitting markets in 2020, it picked up steam quickly and has already won several international awards, including a few design awards, due to its eye-catching aesthetics inside and out. It's no surprise that so many drivers are interested in finding a Mazda CX-30 for sale. Several publications have named this model a top crossover, and we don't see the hype slowing down for this affordable luxury vehicle. And yes, we see it as exactly that––an affordable luxury vehicle. Starting at just $22,500 for the 2022 model, the CX-30 is certainly a budget-friendly option, but its features and design launch it into the luxury vehicle category.[a] It looks expensive, but it is not.
The CX-30 is a crossover SUV. That means it's based on a car chassis rather than truck chassis but still has the lifted ride height you desire from an SUV. So it drives much like a sedan while offering improved visibility. It has sporty handling, some really fun and intuitive features, and an elegant style that is sure to turn heads. Many drivers cannot believe that a car that looks this good and drives this nicely costs so little, but it does. The CX-30 filled a gap in the crossover SUV market for those who want the versatility and utility of these vehicles in something a bit more eye-catching. Here's everything we love about the Mazda CX-30.
Powerful Performance
The Mazda CX-30 is a lot of fun to drive. It delivers all of the exhilarating, grip-the-road, responsive performance that you might expect from a sports car in a family-friendly crossover SUV. So parents can handle carpooling in it and then have some fun after dropping the kids off at soccer practice. This is all thanks to the available Skyactiv-G 2.5 Turbo engine that delivers up to 250 hp and 320 lb-ft of torque. You won't feel any pushback from this vehicle when you want to test its limits. It's ready to keep up with you.
You'll also feel in control, even when enjoying a little speed. This is because the Mazda CX-30 has G-Vectoring Control Plus. This system constantly analyzes road conditions, making precise changes to the power delivery and the braking. Through these adjustments, the system can shift the weight of the vehicle for the smoothest of rides. Furthermore, the 2022 CX-30 comes standard with the impressive i-Activ AWD system. This system constantly monitors the vehicle dynamics data and sends torque to the tires with the most grip. These two systems help drivers feel in command and secure on any road in any conditions.
The Mazda CX-30 is also loaded with smart driver-assist features that help you be the best driver you can be in many situations. One of these features is Mazda Radar Cruise Control with Stop & Go. This system uses radar to monitor the distance between you and other cars and automatically maintains the speed necessary to keep a safe distance. The CX-30 even has Traffic Jam Assist, which provides gentle steering assistance at low speeds to prevent accidents in traffic. These are only some of the great driver-assist features in this car that predict and prevent collisions, providing you with peace of mind.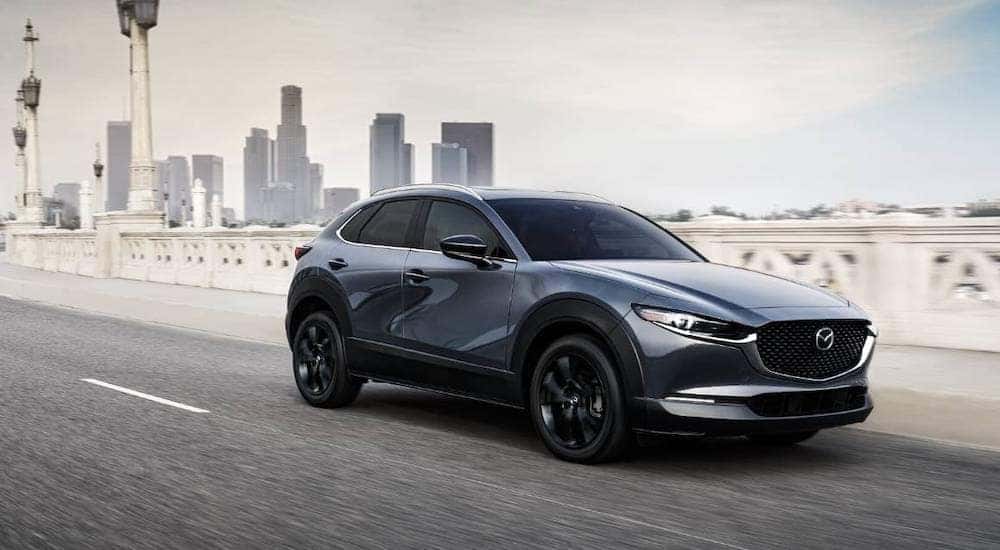 Sophisticated Style
Here's something everybody talks about when they first see the Mazda CX-30: it's just so pretty. It fits right in with models from BMW, Mercedes, and Lexus. It has an international, sophisticated appearance that oozes luxury. Its body lines are sleek, its curvature is perfect, and its profile is understated but upscale. Moving inside, you get available perforated leather seats with premium stitching, along with some subtle yet sophisticated color palettes.
Moving up the trim line, you'll find 18-inch alloy wheels in the Select trim and above. For the Carbon Edition and the three Turbo trims, the wheels have a stunning black finish. You also get intriguing details on the Carbon Edition, like black heated side mirrors and red leather sports seats. Drivers looking for a car that has more of a high-performance appearance should check out the Carbon Edition. The further you move up the trim line, the more you find special touches, like the power sliding moonroof on the Preferred trim.
It is nice that you find such a variety among the trims. At its core, the Mazda CX-30 is a crossover SUV. So anyone who wants the plentiful cargo space and comfort of an SUV will enjoy any of the trims. But when it comes to style, there's something for everyone in this lineup.
Tech-Forward Design
Nobody could accuse the Mazda CX-30 of not being tech-forward. Drivers can look forward to plenty of convenient and intuitive tech features. Use the MyMazda app paired with Mazda Connected Services and enjoy features like a remote engine start and vehicle status reports. The remote engine start lets drivers activate the climate control in the car before even getting in. This means you can warm the car before stepping inside on cold days or cool it down on hot summer days. Your vehicle will be waiting for you at the perfect temperature.
The status reports come in handy in more ways than one. First, if you can't remember where you parked your car, you can locate it. The app will show you where it was last stopped. If you're ever worried that you forgot to close the trunk or left the doors unlocked, you can also check the status of those in the app, along with whether or not the hazard lights are on or if the hood is closed.
Drivers will appreciate having Apple CarPlay and Android Auto, which let you use your favorite apps, including Siri and navigation, on the vivid 8.8-inch center-mounted display. Every trim can also be equipped with built-in satellite navigation. If you need to stay connected while on the road, you will like the available Wi-Fi hotspot. You can also set your car up to automatically reach out to emergency services like 911 and roadside assistance in the event of an accident.
Last but certainly not least, audiophiles will love the available 12-speaker Bose Centerpoint 2 sound system, which was custom-engineered for the CX-30. It has speakers strategically placed throughout the vehicle, so everyone can enjoy podcasts, music, audiobooks, and more with perfect clarity. However, even the base trim comes with a high-quality eight-speaker sound system designed with Mazda Harmonic Acoustics.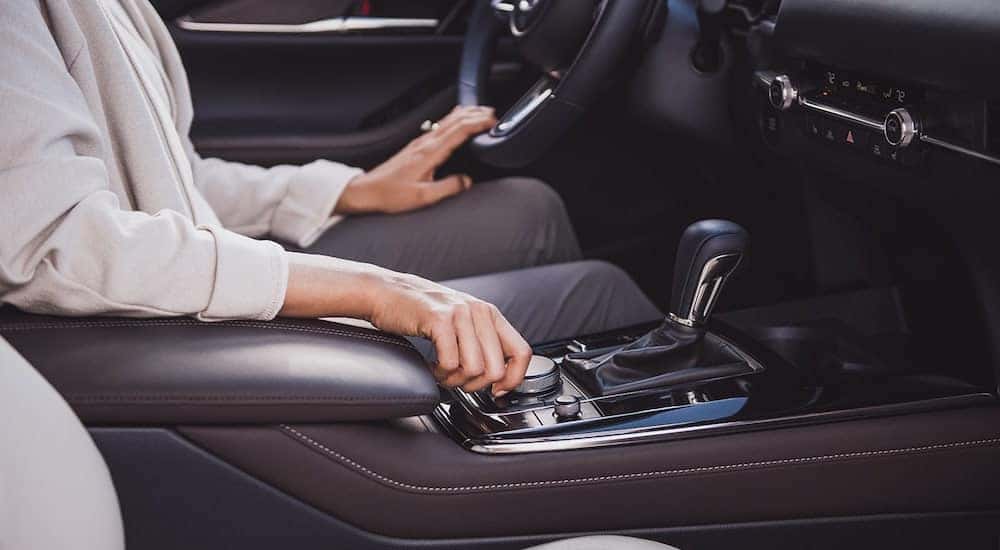 Dispelling Myths
Mazda dispelled many myths when it built the CX-30. It dispelled the myth that only ultra-expensive vehicles could have a sophisticated style that's perfect for cosmopolitan and corporate environments. Mazda also showed that you don't have to purchase an impractical sports car with limited seating to enjoy sharp handling and an enjoyable behind-the-wheel experience. And it proved that there's just no need to pay a small fortune to enjoy intuitive driver-assist and infotainment features. Even though Mazda hasn't been building the CX-30 for long, the awards it has already won are a testament to what an impressive vehicle it is. If you're in the market for a beautiful car that's fun to drive and affordable, this SUV should certainly be on your test drive list.
---
[a]MSRP may change without notice. See dealer for complete details.