4 Amazing Mazda Models to Consider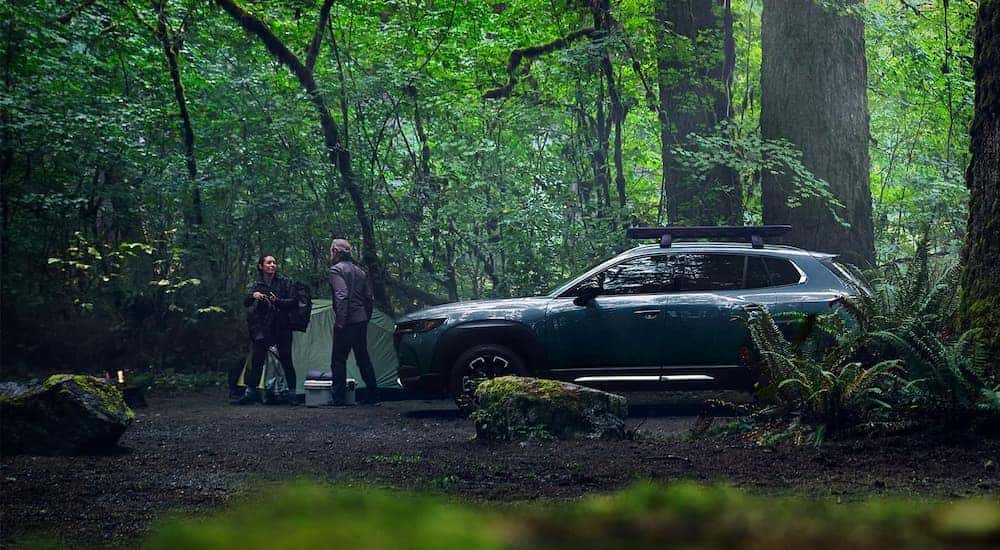 Like many of its fellow Japanese car companies, Mazda got its start in the early 1900s. Only instead of its first vehicle being a car, Mazda created a unique vehicle called the Mazda-go, which was essentially a blend of a motorcycle and truck. This unique creation was the first in a long line of inventive vehicles that were created with the driver's wants and needs in mind.
The innovative Mazda company continues that legacy today with its current line-up of driver-centered models that carry some of the best technology and highest safety ratings of any vehicles on the market. Augusta drivers know that when they want a fun and economical ride with a premium feel, Mazda is the brand to turn to. And Mazda of Columbia is the Augusta Mazda dealer to go to find exactly what you're searching for.
With their impressive speed and long-lasting durability, it can be tough to choose a favorite Mazda. So, where to start? We picked out four of Mazda's current top models, including two SUVs, a sedan, and a sports car. Mazda makes a vehicle to fit into every lifestyle. The only problem you might find yourself faced with is choosing just one.
#1 – CX-50: Essential For Your Next Adventure
If you're looking for a beautiful but capable adventure vehicle, the brand is Mazda, and the vehicle is the CX-50. Whether you're heading uptown or out of town, the new Mazda CX-50 will get you there. The CX-50 was designed with comfort and convenience in mind. The alluring SUV was built to make driving effortless and feel like second nature.
A great feature that helps the CX-50 stand out is the available Mazda intelligent Drive Select Technology. The technology makes easy going of slick or rocky terrain by allowing drivers to switch between three different drive modes. Select modes that include Normal, Sport, or Off-Road, depending on where you're heading. If you find yourself in need of towing, opt for the available towing mode, which delivers towing of up to 3,500 lbs. Adding to the impressive driving mode feature, the standard i-Activ all-wheel drive system enhances the CX-50's performance no matter the given terrain.
When it comes to looks, the five-seater SUV doesn't disappoint. The modern, sleek lines transfer to the interior cabin that was designed with you in mind. The balanced seating position aligns with the steering wheel to offer the ultimate comfort no matter the unevenness of the road outside. As luxurious as the CX-50 feels, it was made to withstand whatever adventure your day might hold.
The interior upholstery is created from a tough nylon material that's typically used on things like backpacks, while the stitching design was meant to invoke the image of boot laces. The unmistakable grip of a camera lens was the inspiration for the CX-50's center console. While other SUVs offer rugged performance, they are often lacking when it comes to luxury, and that's where the CX-50 comes in. So if you're looking for a tough but refined SUV, the CX-50 delivers on every level.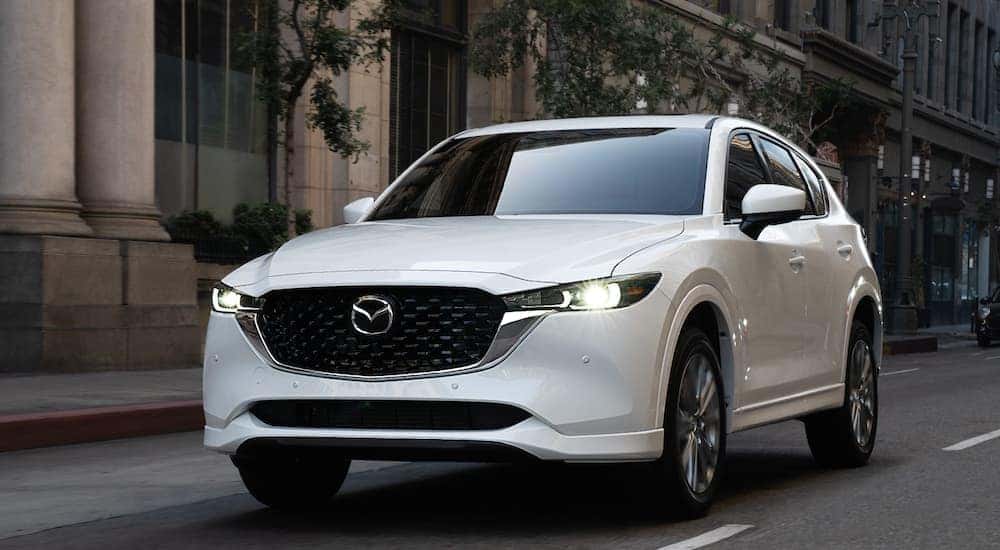 #2 – CX-5: Reasonably Refined
Drivers who are looking for a refined and economical choice might find what they're looking for in Mazda's CX-5. The practical but stylish CX-5 checks all the boxes when it comes to a compact SUV. The CX-5 manages to pack a lot into a small space making for quick maneuvering and easy parking when it comes to the busy roads and tight parking in Augusta.
The CX-5 has been redesigned for 2022 to enhance some of its key features. The SUV allows drivers to take control and connect with the road using the standard i-Activ all-wheel drive system. The performance-enhancing technology combined with Mazda's new Mi-Drive lets drivers select the drive mode that best matches their unique driving situation. Meaning when roads turn slick, the CX-5 is ready to adjust to meet your needs.
Like most Mazdas, the CX-5 offers a great driving experience balanced with a luxurious feel, putting the CX-5 at the top of its class in both performance and looks. The eight trim options give drivers plenty to choose from, even allowing them to level up to choices like the Signature model, which offers layered wood trim and supple Nappa leather trim. Mazda's affordable pricing means drivers have the flexibility to choose the CX-5 that's right for them and customize it to their exact needs.
#3 – Mazda3: A Beautiful Expression
Looking for a head-turning compact car that doesn't sacrifice function? The Mazda3 lives up to the hype. Offered as either a four-door sedan or a five-door hatchback, drivers will enjoy the functionality of the Mazda3 while also feeling as if they are indulging themselves every time they get behind the wheel. There's no missing the Mazda3. The sedan shows off its sleek modern beauty, turning heads no matter where it goes while still boasting a great list of safety and performance features.
For power, drivers can choose between the standard 2.0L and 2.5L engines or take their driving experience up a notch with the powerful Skyactiv-G 2.5L Turbo. This beautiful beast delivers up to 250 hp with up to 320 lb-ft of torque. Plus, the Mazda3's available i-Activ all-wheel drive system is blended with the G-Vectoring Control Plus System. This system is responsible for the Mazda3's responsive steering and enhanced stability. Add these features together, and what do you get? An unforgettable and invigorating driving experience. Drivers never have a dull moment with the Mazda3 by their side.
The undulating curves of the Mazda3 seek to invoke a sense of movement even when parked. With refined design and color choices, the Mazda3 captures attention whether in motion or at rest. This feeling of paused action lends itself to the interior as well, where drivers will find themselves at the center of it all. The elegant upholstery and styled console enhance the driving and riding experience while still remaining practical enough to meet the demands of everyday life.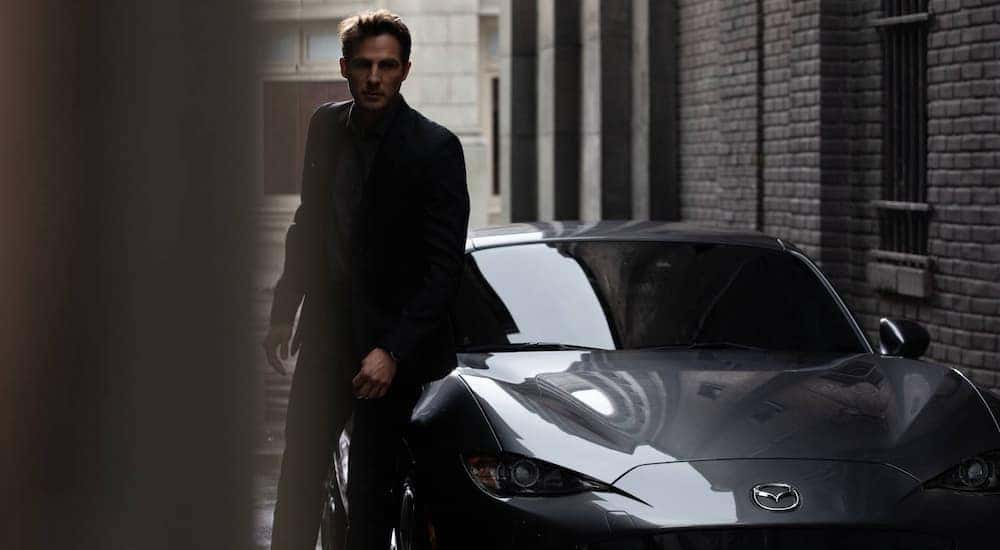 #4 – MX-5 Miata: Invigorating Indulgence
Mazda boasts that the MX-5 Miata was designed around the driver to move with you as if it were an extension of your body, and a quick test drive will show that boast to be correct. The Miata is the perfect mix of performance and style that only a brand like Mazda could offer. The ultra-lightweight sports car offers drivers quick, responsive steering. For drivers looking for smoother, sharper turning ability, the 2022 Miata has a new take on control. The all-new Kinematic Posture Control makes driving a Miata nothing but pure joy.
The SkyActiv-G 2.0L engine puts out 181 hp with a 7,500 RPM redline, letting drivers go from 0 to 60 in 5.7 seconds. As a true sports car, you also have a standard six-speed manual transmission and rear-wheel drive, providing unmatched handling. But unlike other sports cars, the lightweight of the Miata means it is still economical to drive, with a fuel economy rating of up to 30 MPG combined.
Don't think Mazda would create such a top-performing powerhouse without some of the best safety features out there. The balance of power and safety is key when it comes to creating a thrilling drive. Features like Blind-Spot Monitoring help drivers focus on the road without wondering if they can switch lanes. And with Rear Traffic Alert, drivers don't have to second guess themselves when pulling out of a parking space in downtown Augusta; the system is designed to alert drivers to passing traffic they might not be able to see otherwise. The Lane Departure Warning lets drivers know if they accidentally drift from their lane.
While the Miata might not have the largest cargo space or make the best family vehicle, it's a car designed to take your driving experience to the next level when it counts. For a fun afternoon ride or running errands around Augusta, the Miata's stylish performance makes a mundane afternoon exhilarating in more ways than one. So relax, fold down the top, take in the sun, and let the Miata do the rest. You'll soon see why the MX-5 Miata is one of the world's most popular sports cars.